MobleyMD is recognized internationally as one of the top Facial Plastic Surgery practices in the US. Explaining Nostril Stenosis with Dr. Mobley MD
Nostril Stenosis Surgery & Treatment
Nostril stenosis is a medical condition where the normal opening of the nostril is reduced and constricted. ("Stenosis" is simply the medical word synonym for "narrowing"). People with nostril stenosis often suffer from reduced airflow through the nostril and cosmetic deformity that can lead to a general lack of self-confidence about one's physical appearance.
There are a range of conditions that can lead a patient to suffer from nostril stenosis. Burns, dog bites or skin cancers of the nose can all lead to nostril stenosis. Sometimes a poorly performed cosmetic rhinoplasty ("nose job") can also cause nostril stenosis.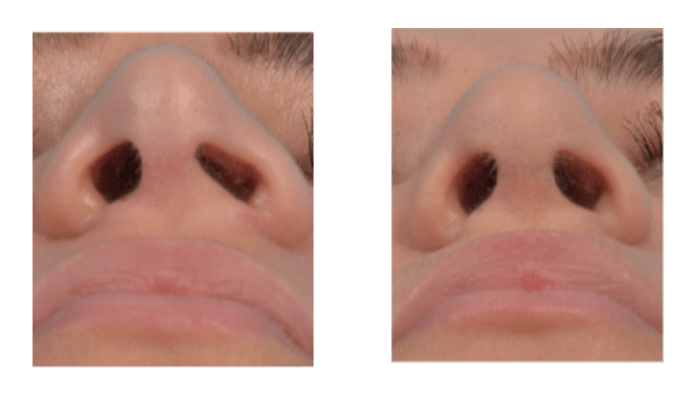 Dr. Mobley has devoted a significant number of years of his career dedicated to the reconstruction of peoples faces and specifically their nose and nostrils. With over 20 years of experience there are a few surgeons that bring his level experience to your nostril reconstruction case.
Whether the opening of your nostril is too narrow or your nostril looks distorted or deformed, Dr. Mobley has a range of surgeries that can help restore a near-normal appearance to your face nose and nostrils.
Other related procedures may include the following:
Nostril Stenosis Surgery & Correction Procedure:
A Case Study Video
Frequently Asked Questions
Nostril stenosis is the medical term used to describe a nostril with an abnormally narrow opening. This can often cause restriction of airflow, and many patients will have an abnormal-looking nostril as well. For example, the affected nostril often looks narrower than the other side. Also, the nostril may appear to sit higher or lower when compared to the normal side.
Dr. Mobley's interest in face, nose, and nostril repair dates back to his earliest years of surgical training at the University of Miami and the University of Illinois at Chicago. He was exposed to some great leaders of Facial Plastic Surgery, such as Richard E. Davis, MD, and the world-renowned reconstructive surgeon pioneer, Gary Burget, MD. One of the original reasons Dr. Mobley chose to go into Facial Plastic Surgery was to restore a more normal facial appearance to people who had lost part of their nose or face to skin cancer or trauma. Dr. Mobley's practice in Salt Lake City, Utah, is heavily devoted to the cosmetic care of the face, including facelifts, rhinoplasties (nose-jobs), otoplasties (ear innings), and other common cosmetic procedures of the face and neck. However, his passion for restoring a normal facial appearance is as strong today as it was in his early years in Miami and Chicago. Dr. Mobley continues to take on the most challenging reconstructive cases even when patients have been told there is
nothing that can be done.
Generally, speaking, nostril stenosis is not a very common condition. As a 20+ year experienced Facial Plastic Surgeon, Dr. Mobley has seen a large number of conditions affecting the nostrils and he has successfully repaired hundreds of patient's nostrils throughout his career. Patients with an uncommon condition such as nostril stenosis should be extra diligent in choosing a surgeon. Few surgeons, if any, in America bring the experience Dr. Mobley can bring to each person's unique nostril reconstruction situation.
Nostril stenosis is complex and often requires more than one surgery. Some of Dr. Mobley's techniques were summarized in this peer-reviewed article:
Often national stenosis repair requires two surgeries. In the first surgery cartilage (typically taken from behind the ear) is inserted into the skin of the nostril.
This ear cartilage is crucial because it will provide structural support to prevent the reconstructed nostril from narrowing again. After the passage of a few weeks, the second surgery is performed. The main goal of the second surgery is to enlarge the nostril opening to more closely match the normal side. Skin grafts are often taken to line the new internal surface of the nostril so that it can maintain the new, more normal, size and shape.
Most of these surgeries take anywhere from 1 ½ to 3 hours. They are performed under general anesthesia. Often, these surgeries are performed in our nationally accredited private surgical center. 
Here, Dr. Mobley works with an experienced team of healthcare professionals who are solely devoted to
the surgical care of Facial Plastic Surgery patients. Many patients find our private operating room a much more desirable and personal experience versus larger hospitals or other facilities. Depending on your insurance and other factors, you may also choose
to have your surgery performed at the prestigious St. Mark's Hospital or the Utah Surgical Center.
Most people find the recovery from nostril stenosis repair fairly manageable. One of the key techniques Dr. Mobley has pioneered is the use of custom shaped Aquaplast material nostril splints. The splints are handmade by Dr. Mobley during your surgical procedure and are custom fitted to help support the shape of your new nostril. Patients will most often have these nostril splints in place following surgery.
Patients may find it slightly awkward to have a piece of plastic temporarily sewn into the nostril. However,
this is a relatively brief amount of time (usually lasting between 10 to 14 days). Most patients view this as a reasonable trade-off for a lifetime of a more normal looking and normal functioning nostril.
Like any plastic surgery procedure, there can be a fairly wide range of costs associated with nostril stenosis repair. Several factors come into play. 1)- Will more than one surgery be needed? 2)-Are you trying to use insurance for OR and anesthesia fees? 3)-How complex is your case? 
Dr. Mobley's fees average between $3500-$7000 per operation, and it is not uncommon for 2 surgeries to be needed for a final successful repair. Our staff is well-trained to look at each patient's situation and curate a plan to help you reach your goals in the most financially advantageous way. If your insurance can help with costs, we will help educate you on that process as well.
We welcome patients from around the state and from around the country and even from outside the USA. People have flown hundreds and even thousands of miles to receive Dr. Mobley's care over the course of his career. While the surgical execution of a nostril stenosis repair is quite complex, the postoperative care of your nose is usually not overly complicated and as such, most patients can fly in and out of Salt Lake City to receive their requisite surgical care. Further, newer technologies such as video call texting and video texting are there to enhance the ability to more easily care for people who are coming from further away.
To get started, simply click the submission form at the end of this section. We would love to learn more about your condition and help support you on your journey to repair a more normal-looking and normal-functioning nostril.
Dr. Mobley, International Expert
Dr. Mobley has been in practice for over 20 years and has published over 40 publications. Among his many scientific papers, Dr. Mobley has published several paper specifically on the topic of complex nasal reconstruction and specifically reconstructing the narrowed nostril.
Patients from around North America and the World have flown to receive excellent surgical care by Dr. Mobley. Salt Lake City Utah is a national hub for Delta airlines allowing easy flights in and out of the city. Dr. Mobley's office is a short 15 minute ride from the airport and there are a range of hotel options for every budget near our office. Your surgery will be performed in our state of the art surgical facilty Millcreek Surgery Suite (insert URL link Maybe) where you will receive top notch care from some of the nations's best plastic surgery nurses and anesthesia providers.

SEE WHY PATIENTS FLY FROM ALL OVER THE US TO EXPERIENCE DR. MOBLEY AND HIS TEAM'S EXPERTISE IN FACIAL PLASTIC SURGERY.
Dr. Mobley is proud to lead the way in establishing Utah as a major destination hub for Facial Plastic Surgery. Whether you're from out of state or out of country, our Patient Care Team is dedicated to making your experience with us as simple, efficient and discreet as possible.
AN OFFICE INSPIRED BY INNOVATION
Experience our state of the art facility in the heart of Utah's Medical Corridor!
Mobley MD Facial Plastic Surgery office was built from the ground up and designed specifically for the patient experience. Our patients have exclusive access to Millcreek Surgical Suite, a AAASF nationally certified center that provides an unparalleled experience for discerning cosmetic patients. Located steps away from Utah's renowned St. Marks Hospital, our office houses our state of the art surgical facility and our boutique medical spa, BeautyNow.