MobleyMD is recognized internationally as one of the top Facial Plastic Surgery practices in the US. Nostril stenosis is a medical condition where the normal opening of the nostril is reduced and constricted. ("Stenosis" is simply the medical word synonym for "narrowing"). People with nostril stenosis often suffer from reduced airflow through the nostril and cosmetic deformity that can lead to a general lack of self-confidence about one's physical appearance.
There are a range of conditions that can lead a patient to suffer from nostril stenosis. Burns, dog bites or skin cancers of the nose can all lead to nostril stenosis. Sometimes a poorly performed cosmetic rhinoplasty ("nose job") can also cause nostril stenosis.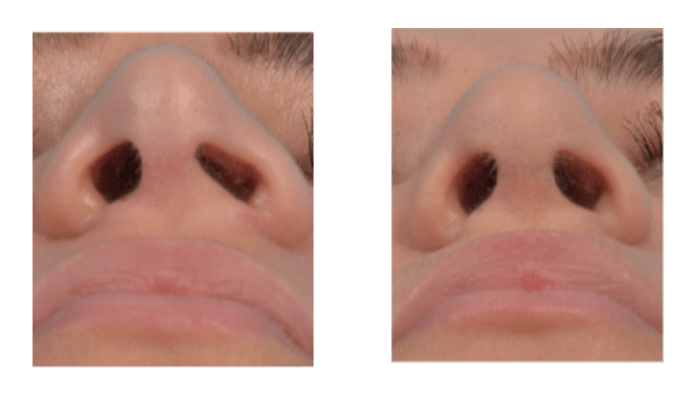 Dr. Mobley has devoted a significant number of years of his career dedicated to the reconstruction of peoples faces and specifically their nose and nostrils. With over 20 years of experience there are a few surgeons that bring his level experience to your nostril reconstruction case.
Whether the opening of your nostril is too narrow or your nostril looks distorted or deformed, Dr. Mobley has a range of surgeries that can help restore a near-normal appearance to your face nose and nostrils.
Other related procedures may include the following:
Watch Nostril Stenosis Surgery Case
Dr. Mobley, International Expert
Dr. Mobley has been in practice for over 20 years and has published over 40 publications. Among his many scientific papers, Dr. Mobley has published several paper specifically on the topic of complex nasal reconstruction and specifically reconstructing the narrowed nostril.
Patients from around North America and the World have flown to receive excellent surgical care by Dr. Mobley. Salt Lake City Utah is a national hub for Delta airlines allowing easy flights in and out of the city. Dr. Mobley's office is a short 15 minute ride from the airport and there are a range of hotel options for every budget near our office. Your surgery will be performed in our state of the art surgical facilty Millcreek Surgery Suite (insert URL link Maybe) where you will receive top notch care from some of the nations's best plastic surgery nurses and anesthesia providers.

SEE WHY PATIENTS FLY FROM ALL OVER THE US TO EXPERIENCE DR. MOBLEY AND HIS TEAM'S EXPERTISE IN FACIAL PLASTIC SURGERY.
Dr. Mobley is proud to lead the way in establishing Utah as a major destination hub for Facial Plastic Surgery. Whether you're from out of state or out of country, our Patient Care Team is dedicated to making your experience with us as simple, efficient and discreet as possible.
AN OFFICE INSPIRED BY INNOVATION
Experience our state of the art facility in the heart of Utah's Medical Corridor!
Mobley MD Facial Plastic Surgery office was built from the ground up and designed specifically for the patient experience. Our patients have exclusive access to Millcreek Surgical Suite, a AAASF nationally certified center that provides an unparalleled experience for discerning cosmetic patients. Located steps away from Utah's renowned St. Marks Hospital, our office houses our state of the art surgical facility and our boutique medical spa, BeautyNow.