MobleyMD is recognized internationally as one of the top Facial Plastic Surgery practices in the US.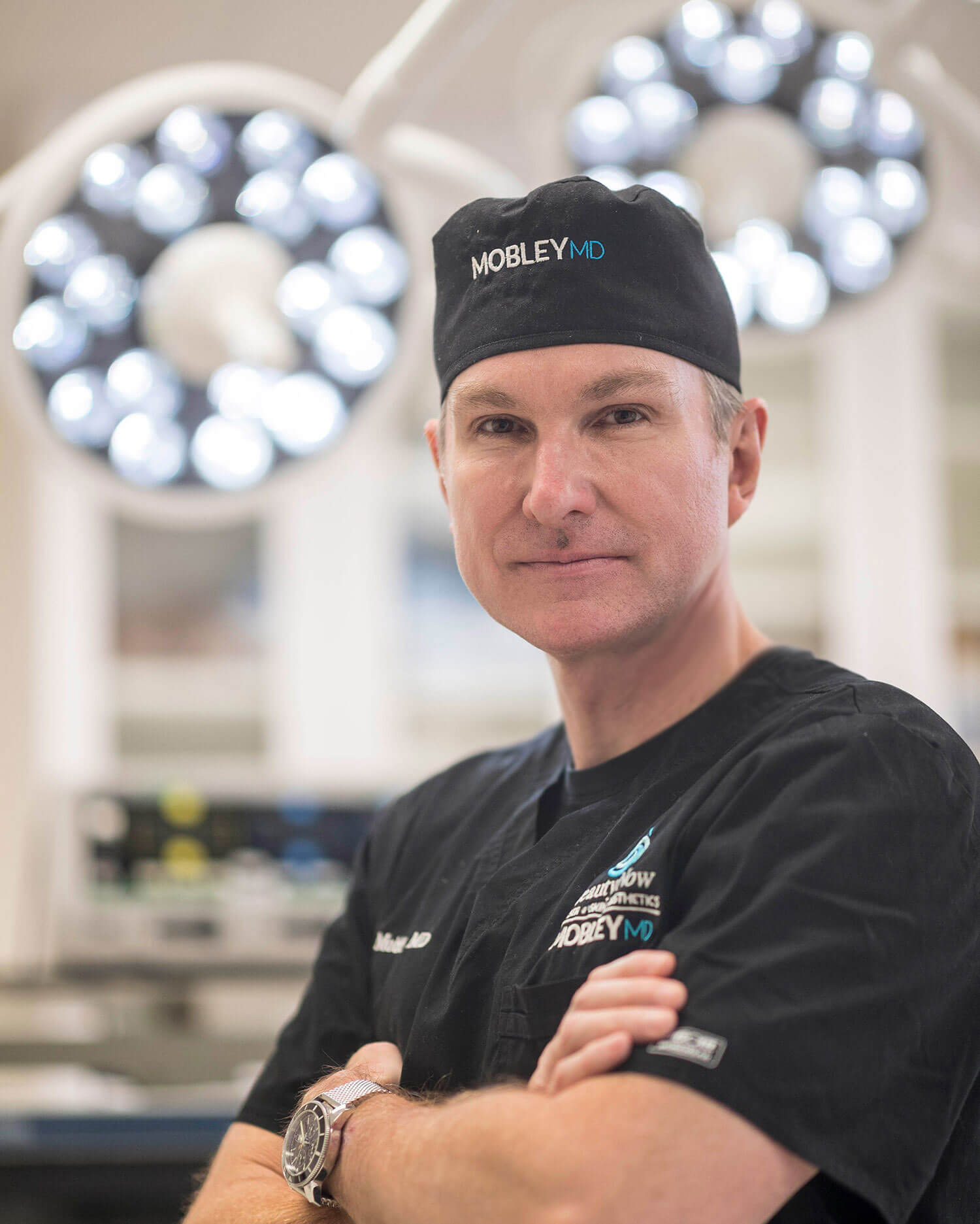 Dr. Steven Mobley is building Utah into a national hub for Facial Plastic Surgery.
At MobleyMD, we believe the foundations to health, wellness, and self confidence begin with finding a surgical team that has a passion for surgical excellence, a best-in-class level of experience, and a world-class facility built with innovation in mind. Find out why our patients fly from all over the world to be treated by Dr. Steven Mobley.
Dr. Steven Mobley performs more rhinoplasties, facelifts and other top procedures than many other Facial Plastic Surgeons in the United States.
Our team leads in experience, results, and compassion. From the moment you arrive, we take the time to get to know you, your goals, and your expectations.
A true passion for artistry inspired by every patient's search for natural looking results.
For over 20 years Dr. Mobley, a national thought leader in Facial Plastic Surgery, has been artfully balancing his keen surgical talents along with his eye for art and beauty to create natural, lasting aesthetic results for his patients.
Over 20 years of surgical excellence.
Having undergone an ear pinning procedure himself as a child, Dr. Mobley understands first hand and empathizes with the patient experience. He combines this with his extensive training and surgical expertise to offer the very best in patient care.
A second generation surgeon, Dr Mobley began his love for caring for others at an early age. As he forged his career as a Facial Plastic surgeon, Dr. Mobley was mentored by the likes of Dr. Rick Davis, Dr. Robert Simons, Dr. Regan Thomas, and Dr. Gary Burget, all of whom taught him that to be a great surgeon one must be a counsellor, an artist, and an engineer.
. The counselor listens closely to the patient's needs, the artist creates the vision for the patient's solution, and the engineer uses exacting technique to achieve the desired result.
Along with his extensive professional experience, Dr. Mobley actively gives back to his community. He routinely offers charitable surgery to children in need of ear pinning but who cannot afford it through The Mobley Foundation—a 501(c)3, started in 2008 with his wife Britta. Further, they actively support children's charities and have donated over $50,000 dollars to help deserving children throughout Utah. As well, Dr. Mobley has donated over $25K over the past several years to Children's Holiday Charities.
Dr. Mobley spends his weekends with his family of four- hiking the Wasatch Mountains of northern Utah, hitting the gym with his wonderful wife, boxing with his son, and watching his two boys play baseball.
RECOGNIZED AS A LEADING PHYSICIAN

Dr. Steven Mobley has been recognized by the prestigious Castle Connolly organization as a Top Doctor.
The Castle Connolly Top Doctor award honors both physicians and leaders in healthcare whose dedication, talents and skills have improved the lives of countless people throughout the world
Dr. Mobley holds this title with great pride and respect, as receiving it has been the result of years of excellence in Facial Plastic Surgery while giving back to our local community and beyond.
Dr. Mobley is a leader in health advocacy across the state of Utah, through his contributions as a medical expert on ABC, his weekly appearances on KSL radio, and through his own patient-focused YouTube channel. Subscribe to us on YouTube to learn more, and to stay up to date with all of Dr. Mobley's media appearances and features!
Follow us on Twitter, Facebook, G+, YouTube and Instagram for the latest news, specials and service announcements!
Dr. Mobley Ear-Pinning Story on Inside Edition
Good Things Utah: Dr. Mobley discusses Rhinoplasty for Teens
Dr. Mobley Discusses the Expertise of Chin Implants
Dr. Mobley Wins American Red Cross Hero Award
Dr. Mobley Discusses the Anti-Aging Injection 'Sculptra'
KSL5 Story on Silencing Bullies with Dr. Steven Mobley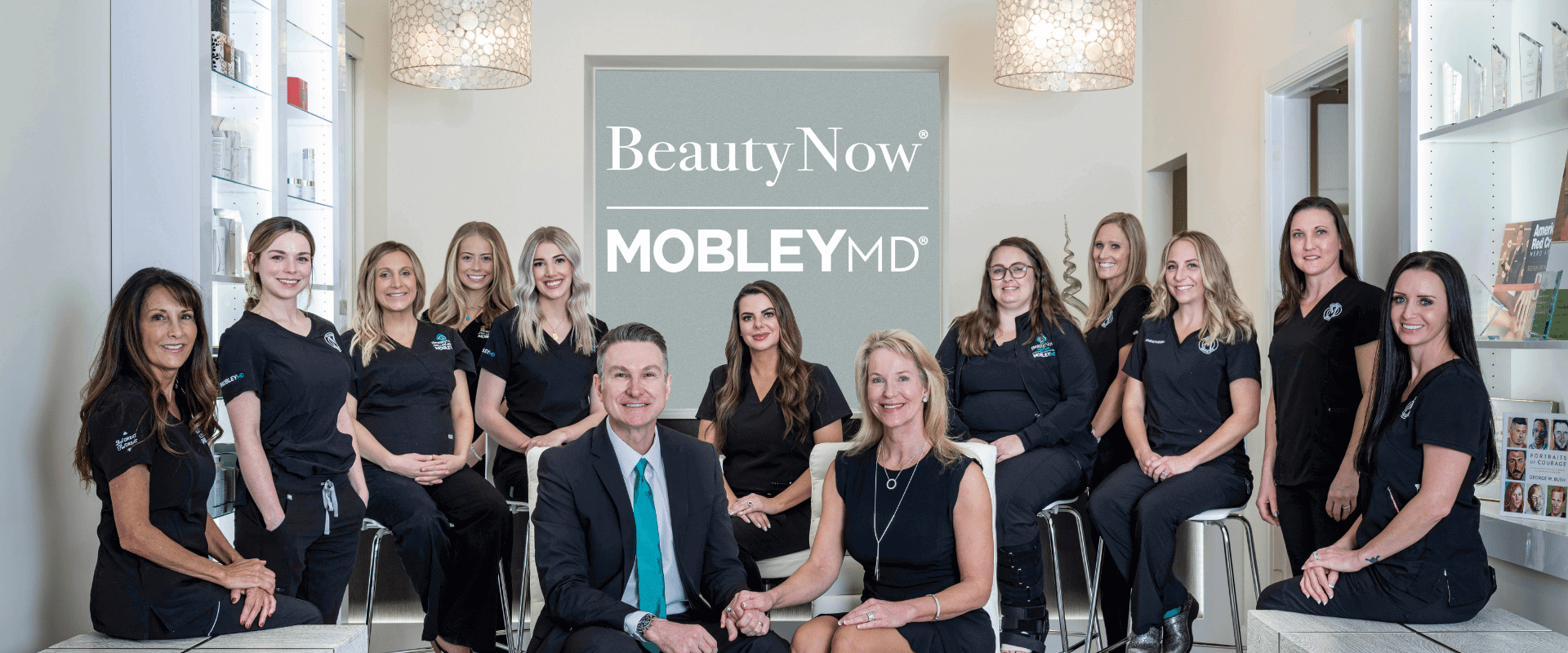 The MobleyMD Team Promise
We promise to never forget that what we do has a life-changing impact on our patients and their wellness, health and confidence. We promise to practice our passion ethically, responsibly, and with true dedication to our craft. We promise to get to know you, to understand why you're visiting us, and to treat your journey as our own. Learn more about our team and their various areas of expertise below!
Britta Mobley has been in the sales and pharmaceutical industry for 13 years—excelling in leadership, management, and sales, from clothing to pharmaceutical to fundraising, she is a people person through-and-through. She is the personality, and the vital energy of the Mobley Team.
While Britta is a committed partner in all things concerning the Mobley practice, she has been a focused student and athlete her entire life. She was a competitive water skier, speaks fluent German, and continues to push herself physically and mentally as an active member of the Park City community. Along with all of this, Britta is a committed mom of 2 amazing boys, not only her most rewarding job, but also her most important.
Sheila is a master aesthetician, having graduated from the Skin Works School of Aesthetics in 2006. As part of Dr. Mobley's Beauty Now team, Sheila works directly with patients in all aspects of aesthetics and skin care, specializing in finding the perfect combination of treatments along with physician-grade skin care to meet each individual patient's goals. She also acts as the practice manager for Team Mobley, expertly handling day-to-day operations and acting as the go-to for high-level patient concerns. She prides herself on her rigorous work ethic, her personal concern for each and every patient, and her eye for detail.
When she's not providing top-of-the-line skin care treatment and advice she is taking care of her beloved family and dreaming about traveling the world and partaking in some of the finest food and wine across the globe.
Lisa is the first voice and face many will interact with as they begin their journey with Mobley MD. She is the upbeat friendly face who brings over a decade of medical administrative experience to make sure each patient's experience at Mobley MD meets, and hopefully exceeds, their expectations. Lisa is the proud mother of three, and believe it or not, as young and beautiful as she looks- also the grandmother of two beautiful children.
Abby, Patient Care Coordinator


Madison, Patient Care Coordinator
Allie, Master Aesthetician


Jessi, Medical Assistant & Surgical Scrub Technician
Ronae, Head Nurse & Surgical Scrub Technician
Mandy, Social Media/Marketing Intern
Kali, Social Media/Marketing Intern 2021-2022
AN OFFICE INSPIRED BY INNOVATION
Experience our state of the art facility in the heart of Utah's Medical Corridor!
Mobley MD Facial Plastic Surgery office was built from the ground up and designed specifically for the patient experience. Our patients have exclusive access to Millcreek Surgical Suite, a AAASF nationally certified center that provides an unparalleled experience for discerning cosmetic patients. Located steps away from Utah's renowned St. Marks Hospital, our office houses our state of the art surgical facility and our boutique medical spa, BeautyNow.